Golf Courses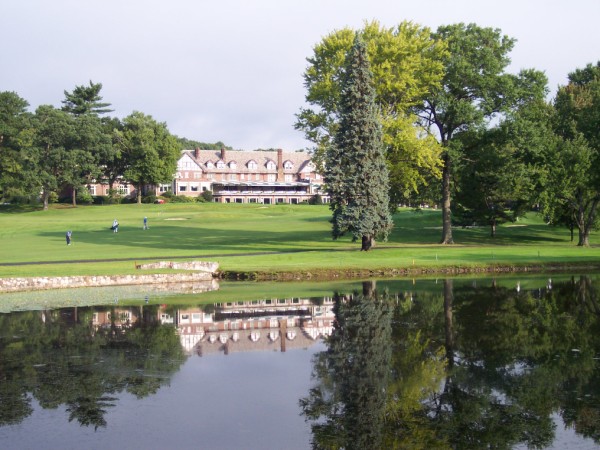 Great opportunity to play this great Championship Venue with so much history of great championships played here. As this was an outing I started on Hole #3 Par 4, Our Tee boxes were way back in the trees and the pro tee box was another 40 yards behind us, however the fairway is on a down slope. I had a Great drive down the middle of the fairway and then wiffed my 5 wood into a pine tree short and left of the creek that travesrese the fairway just in front of the green, punched out with a 7 iron 3 feet from the hole and 1 putt for par. I felt something magical starting to happen on my round. Then on to the 4th Par 3 where I stuck on the green and 2 putted for par, Hole 5 great drive down the middle and a 6 iron to about 15 feet right of the hole and made the putt for birdie. 6th, fair drive on the left side and thena great 4 iron running up to the green and a 2 putt for par. 7th hole par 5 poor drive to the left in the pines punch out and the onthe green for a bogey. 8th hole... ? 9 th hole ? 10 the hole tough drive get a double. 11th ? 12? 13= par 14? 15? 16? 17? 18?
1st hole par with a birdei and then 2nd hole a bogey up the hill.
Baltusrol, Lower Course, Springfield, New Jersey
Golf Magazine Rank
#20 of Top 100 Greatest American Golf Courses
#37 of Top 100 Greatest Golf Courses in the World
Architect: A.W. Tillinghast Year built: 1922
Re-design - Robert Trent Jones and Rees Jones
www.baltusrol.org
Tournaments Held:
2005 PGA Championship
2003 US Amateur
1993, 1980, 1967, 1954 US OPEN
Be sure to visit the guest book and vote on your favorite golf course.

Par 3 4th Hole - I hit the green with a
7 Iron and 2 putted for a great par.
Another look at the Par 3 4th Hole.
The 5th Hole Par 4, I stripped it down
the fairway and then hit a great 6 iron
to 15 feet right of the pin and made the
putt for birdie.
The Jack Niklaus plaque where during the 1967 US open he hit a 1 iron has his third shot to the green and then made the putt for birdie to wint he US open. While playing my round I tapped the plaque just for the sense of history of being at the same spot where the world's greatest golfer was at and Phile Mickelson did the same thing for good luck on Monday August 15, 2005 for his 2nd shot to the green where he needed birdie to win the PGA Championship.